Giving massage to a baby is a very lovely way to express your endless love, affection and care for him/her. Massage can help your baby relax and sleep in a better way. There are many other benefits of giving massages to the babies such as, better digestion, faster weight gain, optimum blood circulation etc. As soon as the baby enters the world you can apply baby massages on him/her, but be careful while massaging and do not touch the navel area of your baby.
You have to wait for 5-7 days until your baby's umbilical cord stump falls. Now, massaging on premature babies can do wonders for them as it has enormous benefits. When we regularly take care of premature babies at the hospital their pulse rates are increased. Sometimes the situation of distress occurs if their oxygen level decreases. A proper massage of premature babies will greatly lower their pulse rates and there will be an increase in their oxygen level so accordingly your baby will find massaging calming, relaxing and soothing.
Right Atmosphere for massage
An ideal area for baby massages is the warm rooms. Room temperature at twenty six degrees is good for the baby massage. To lower their body heat, you can apply oil on their bodies when they are uncovered as babies usually lose a lot of heat. Make sure the area where you are planning to give your little one a massage should be quiet and peaceful. Make it a point that TV should be turned off and there should be no one around that can cause any kind of interruption. By this, parents as well as baby will enjoy the massage. As there will be no disturbance then parents can focus on the massage of the baby and this will help in strengthening their bond.
Appropriate Time for Massage
Generally, the appropriate time to give your baby a massage is when the baby is awake and in a good mood. Many people give their babies a massage before a bath or even after the bath so that babies can feel relax and enjoy the massage. When you are giving a massage to your baby, you have to be calm and focussed. If you aren't, then there could be a chance that your baby will absorb the negative emotions of what you are feeling and get hurt. Physicians highly suggest to not give your baby a massage after they have eaten, wait for an hour or so to avoid the vomiting. But yes, your baby should be well fed before a massage because if they are hungry that might make them stressed and unsettled.
Duration of the Massage
As babies are not so large, so massaging them will not take much time and it is very easy and quick to do. Ideally, a baby massage should tend to last about 30 minutes. If you have just started with the process, then it may take time to get used to the techniques. The best way to know about the technique is that you can learn them by enrolling yourself in baby massage classes available in nurseries and hospitals. If there are no such classes available at your location, then you can always check it in books, videos and DVDs.
Quantity of baby Massage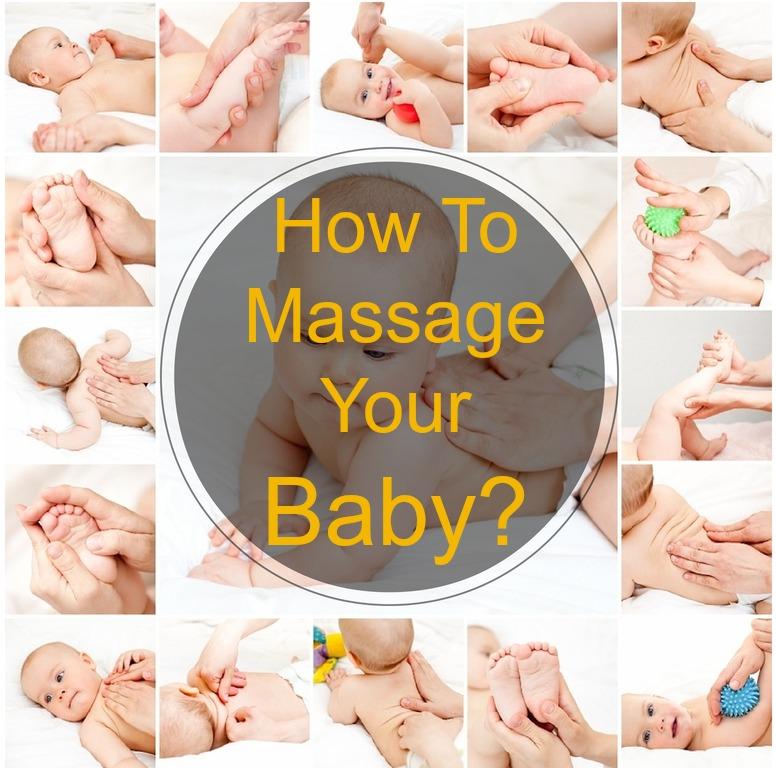 You should give your baby a daily massage for about 20-30 minutes. If you have time constraints, then a 15-minute massage can also be helpful for you and your baby. If you got stuck in your busy schedule and you are unable to give your baby a daily massage then you can massage your baby thrice a week.
Massage Oils
You should apply massages on the baby plain skin. Doing a massage with an oil will ensure that your hands move more smoothly on the body of your baby without much friction. Best oil recommended for a baby are almond oil, extra virgin oil and grape seed oil.
How much pressure should be applied?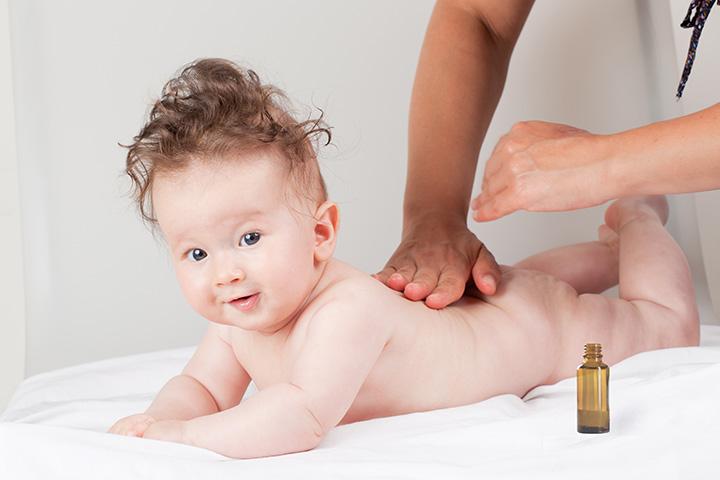 When you are massaging your baby remember the pressure you apply that should be similar to when you close your eyes and press them together. Always use your fingertips when massaging on delicate areas of the infant's body and use your palms when massaging the large areas.
Key Notes
Be extra careful when you have applied oil on your baby and you are picking him/her up.
Never use aromatherapy or essential oils on your baby until or unless you are properly trained or you have an aroma therapist with you.
 If you think your child is allergic to some nuts, then don't use nut oil.
So, these are some tips to give a massage to your baby. If you follow these tips, then you will see a huge improvement in the growth and development of your baby.